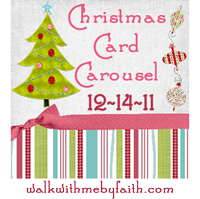 Our Christmas card from Shutterfly
You can see who was the star of the show...what a precious little pup! :)
The pictures of us are at Rockefeller Center, on Ellis Island overlooking Manhattan, and at a Steelers game at the New Meadowlands Stadium.
The back:
I thought I wanted to do a silly card this year of us all decked out in our Christmas finery, so I subjected my poor husband and puppy to a self timer photo shoot in our living room...HAHA! We ended up not using any of these for our card but I put one of these pictures on the return address labels
Here were the two cards we sent out last year. Yes, we sent out two...I couldn't make up my mind! :)
Too bad we can't use our pretty wedding pictures on our cards EVERY year!!!