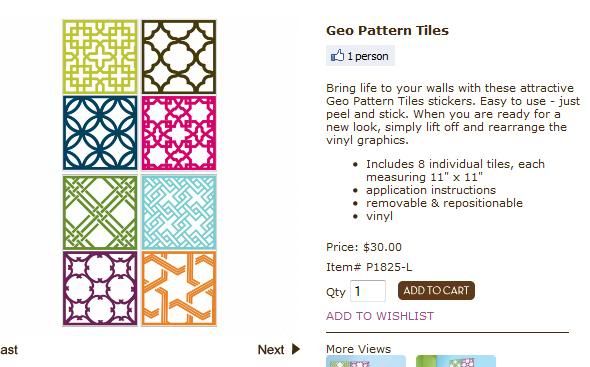 i saw a
post
on
nuestra vida dulce
(one of my absolute favorite bloggers ever) about these
geometric wall decals
, and knew they would be perfect in our new living room. i ordered them that day, and they sat in their packing for months and months until i could figure out what in the world i was going to do with 8 huge stickers.
i thought about buying frames for them, but that turned out to be a little too pricey for this project since i am notorious for changing things up a little too often. coupons in hand, i headed to michael's to find a solution. i ended up with these extremely affordable square 12"x12" canvasas that came two to a pack and thought it would help to make them look more like art and less like cheap stickers.
they didn't stick very well to the canvas, so i had to use a bit of hot glue...but you would never notice. they make a beautiful, bold statement on the huge wall over the couch, and i am so pleased with how it turned out.
who knows, i may get tired of them in the next couple of months, but that is the beauty of DIY art for under $50!
the
website
has tons of different decals to choose from...totally loving this paris map! these would all look great on canvases!
(not a sponsored post, just sharing a fun find!)